The global market for dietary supplements is projected to see phenomenal growth in 2019. Previously, the typical supplement companies competed on the grounds of health benefits, category extension, product differentiation, and delivery innovation. Nevertheless, such things are not new in the market of dietary supplements.
Moreover, the new thing about the market, precisely, is to know what actually is working for selling dietary supplements as well as ingredients online. The changing arena of the dietary supplement industry affects how marketers are going to sell their products online this year and beyond.
Top 6 New Market Trends
#1. Launch of New Supplements:
There has been the launch of new natural or herbal supplements in the global market as a result of rigorous R&D.
New players like nutraceutical companies launch new supplements every now and then.
#3. Large Scale Advertisements:
Large scale advertisements are going on for dietary supplements online, through channels, and TV commercials including celebrity endorsements.
#4. Acquisition and Mergers:
As big fishes eat small ones, the same is going on here in this market. Now, large companies focus on acquiring regional players or merge with them.
Ingredient manufacturers are keen on some major investments into the dietary supplement market to further strengthen their market share.
#6. Stringent Regulations:
Strong regulations regarding dietary supplement ingredients are a challenge. For example, USFDA announced in February 2019 that they are working on some developments for alerting people to avoid buying certain products. According to them, the products might contain certain potentially dangerous or unlawful ingredients.
Top 5 Reasons Behind the Popularity of Dietary Supplements
Some factors drive interest in people for healthy living by taking certain dietary supplement products. Although there are so many reasons, here you can read some of them.
Top global economies like the US might suffer due to the aging population and it may transform the economy. They are gradually shifting to the healthcare market.
In fact, reports suggest that the purchase rate for dietary supplements and vitamins have increased to 6% from 2007 to 2012 in the US. (1)
There has been an increased awareness among consumers towards preventive healthcare. You can find a lot of magazines, TV lineups, news articles, and online forums regularly that dispense lifestyle and diet advice.
Additionally, it can also offer some details concerning new products that influence a multitude of consumers worldwide.
#3. Self-Directed Consumers
Previously, only primary care doctors used to provide solution to all your health concerns. Now, consumers rely on different alternatives to identify and self-diagnose their health needs.
For the record, 70% of all Americans utilize the internet to seek information and make their decisions from pre-diagnosis to diagnosis and finally for the treatment. (1)
Many people nowadays take consultation from the internet before and after they seek treatment. They do so to validate the medical advice that the doctors gave to them, thereby, not trusting them blindly.
#4. Channel Proliferation
Online sales have seen exceptional growth between the years 2007 to 2012. As a matter of fact, it registered almost 17% CAGR in that period. (1)
Further, this trend will go on receiving tremendous success in the future. Because consumers are becoming more familiar with the services that online shopping provides like convenience, category, and products.
Historically, marketing was based on promoting a particular ingredient addressing consumer health needs. As a result, consumers had trouble differentiating between brands.
On the contrary, companies nowadays tailor consumer needs by introducing benefit platforms. They do so to achieve a differentiated marketplace that appeals to consumers, for instance, expectant mothers, 60+ men, adults, etc.
Marketing Success: 4 Key Aspects
Back in the year 2011, almost 80 percent of the total internet traffic used to come from desktops. However, in the year 2019, internet scenarios have totally changed upside down. Because now, almost 80 percent of all internet traffic comes from mobile phones. Voila!
Therefore, this trend will affect copywriting approaches for supplement selling to a greater extent in the year 2019 and beyond. Growing and thriving in this new world is challenging where everyone is using Google and Facebook to explore and research anything and everything.
#1. The Concept of Separate Sales Funnels
Previously, you could use the sales page to cover all your traffic. And, the advanced marketers have had various pre-sell pages that they used for each kind of traffic temperatures.
Besides, they could also have some unique sales page for promotion to get their marketing leads. But now, with the concept of separate sales funnels market successes have multiplied. This funnel constitutes awareness at the top, followed by opinion, consideration, preference and finally to purchase, the ultimate goal!
The two critical factors when it comes to selling online dietary supplements are belief and trust. Actually, these factors set supplement purchase apart from the selling of other online products.
Because, everyone wants to remain fit and healthy. And, nobody wants to compromise on health, of course!
#3. Development Teams Compensating for Multiple Funnels
The next thing that is required for achieving a large audience is to organize their development teams compensating for multiple funnels.
So, you will have to keep up with this aspect if you want to keep yourself updated with the changes.
#4. Conversion Optimization Teams to Test Funnels
Furthermore, marketers need to keep their conversion optimization teams updated with testing various funnels required for every traffic source.
Nonetheless, the funnels would not be the same as it used to be anymore because of rapid change in the industry these days.
Market Analysis:
As per current market analysis of data and reports, the global market for dietary supplements valued around 124.8 billion dollars in 2018. Further, it might reach about 210.3 billion dollars by 2026 showing 6.4 percent CAGR.(2)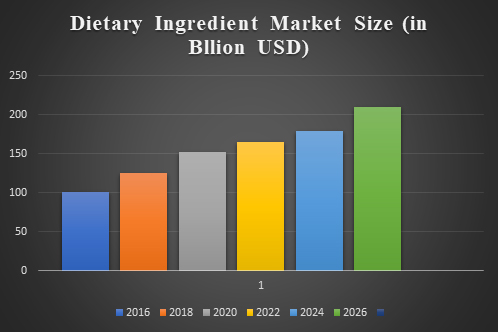 However, strict regulations regarding supplements and their applications are some of the major barriers to dietary supplements market growth between 2019 to 2026.
Key Findings from Reports During the Forecast Period
In 2018, the dietary supplement market was the largest in North America with 33.2% shares. Furthermore, it is expected to rise at 5.7% CAGR. (2)
In the same year, the sales of the supplement market in the US grew to 44.6 billion USD with 5.3% CAGR. (2)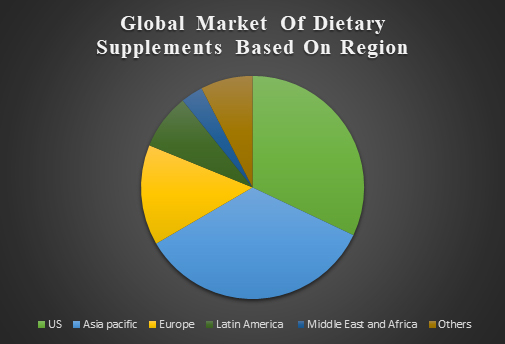 The expected highest market can turn out to be Asia Pacific with a 9.2% CAGR for developing nations like India, and China. It accounted for a total of 30.1% of the total market share globally. (2)
Sports supplement sector might grow the highest under the application segment with 8.4% CAGR. (2)
The online supplement industry might grow at a faster rate by distributing channels.
People are drifting towards dietary supplements in order to keep themselves healthy and avoid huge healthcare costs.
Surprisingly, dietary supplements for children might also soar high.
Now, let's dive into the statistics based on ingredients, application, product, region, and distribution channel:
| | |
| --- | --- |
| Dietary Supplement Market | Growth Prediction During 2016-2026 |
| Ingredients | Botanicals. Vitamins, Minerals, Enzymes, Proteins, Amino Acids. |
| Products | Tablets, powder, capsules, liquid, gel caps and soft gels. |
| Application | Additional supplements, medicine supplements sports supplements. |
| Distribution channel | Hospital pharmacies, drug stores, clinic markets. |
| Regions | North America: US and Canada Asia Pacific: India, China, Japan, others Europe: Germany, France UK, Spain, Italy, others Latin America: Brazil Middle East and Africa. |
Vitamins, the common dietary supplement that adults and children often consume, accounts for about 46.8 percent of the whole dietary supplements market. (3)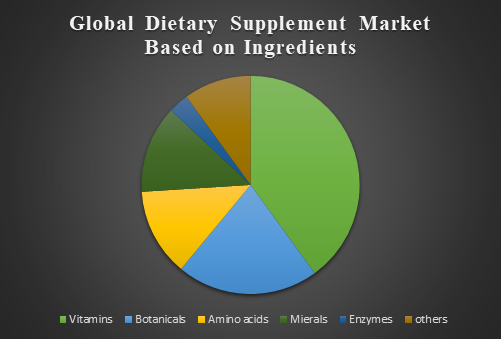 Analysts estimate the market revenue for botanicals to be over 40 billion dollars as of 2018. Interestingly, it might reach 65 billion US dollars at the end of 2026 registering 6% CAGR. (3)
Powder dietary supplements in the global market accounted for about 56.2 billion as of 2018. Furthermore, it might surpass 60 billion US dollars towards 2026. (3)
Amongst distribution channels, the online sector for dietary supplements is projected for the fastest growth of about 10.1%. (3)
Bottom Line
Sturdy market growth for dietary supplements is expected to soar high amid both enlarged health awareness among consumers and the efforts of retailers to position themselves to be the one-stop health destinations.
Furthermore, manufacturers must closely watch the regulatory shifts that occur inevitably and adjust accordingly. They must do so to avoid supply disruption or consumer backlash due to the quality concerns of products.
However, taking on such challenges is justifiable. The expansion of dietary supplements space throughout the globe offers a totally unique opportunity for manufacturers and retailers to capitalize on this robust growth sector.

Disclaimer: The above statements are not intended to cure any disease or comply with any health benefits. This is solely for information purposes. Please consult your doctor/health practitioner before consumption of the product. Although we take efforts to keep our website informative, we do not guarantee any medical benefits.
REFERENCES
Web reference accessed on October 30th, 2019. https://www.mckinsey.com/business-functions/marketing-and-sales/our-insights/cashing-in-on-the-booming-market-for-dietary-supplements
Web reference accessed on October 30th, 2019. http://www.globenewswire.com/news-release/2019/03/25/1760423/0/en/Dietary-Supplements-Market-To-Reach-USD-210-3-Billion-By-2026-Reports-And-Data.html
Web reference accessed on October 30th, 2019. https://www.reportsanddata.com/report-detail/dietary-supplements-market